The soapbox hill on which we run the giant slalom is STEEP and FAST with good length, sloping off and transitioning
to a flat zone before rising up again into an uphill run off. Giant on this slope is a challenge for anybody.
Foot braking is not necessary.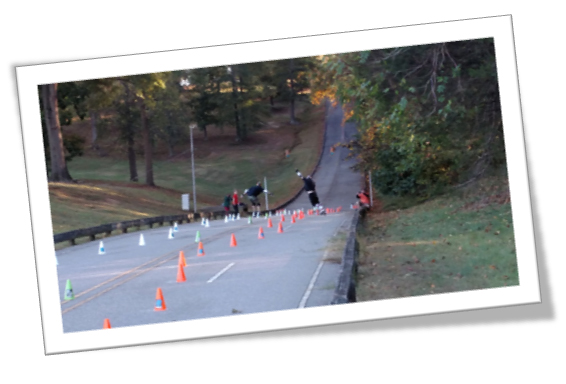 The track is 19 feet wide, good for dual-lane tight and hybrid. Giant is run as a single lane.
The run-out hill at the other end is not as long or steep as the main hill.
This side is deceiving…In truth; the starting point is mostly flat.  Your pumping skills are needed here.
Midway, there is a transition that begins gently and gets steeper as you approach the bottom, creating a fast and exciting finish!
Right next to the hill is a BIG shelter with charcoal grills and probably enough tables to seat 100 people.  Bathrooms are located at the back of the shelter.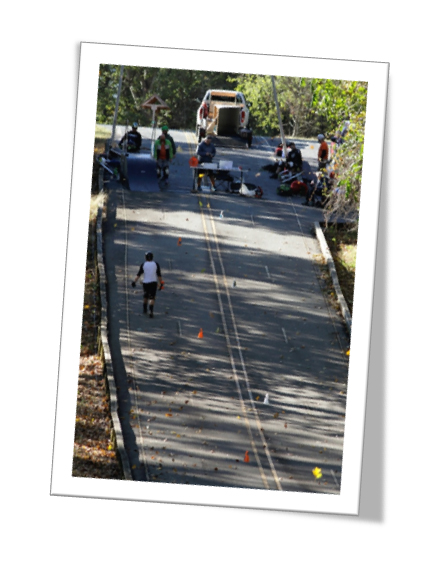 SHADE!!!
See all those dark areas stretching across the road?  That's called shade.
Most race locations are unfamiliar with it.
Plus, the same forest providing the shade is also an excellent wind break.
Last year's race saw wind gusts in the 25+mph range. We never saw a cone move all day.
Anyway, that's Hobby Park. To sum up, it's a PERFECT location for slalom skateboarding.  Hope to see ya'll this October!
This event is sanctioned by the ISSA (International Slalom Skateboard Association)
Main status official world ranking
The public is welcome to come out and spend the day watching some great racing on Saturday and Sunday starting about 10am.
It's free – just BYO – chairs, shade, food/drink as the venue is a county park and there are no services or stores within walking distance.
As a county park, alcohol is prohibited.
Spectator parking and public bathrooms are located at the shelter in the middle of the park.
Maps and other details can be found below.